Pack For Painting
Don't Leave Home Without . . .
If you travel as much as we do, and if you are always seeking ways to help cover your travel costs, consider freelancing by writing articles AND submitting them with quality photographs. Or paint as you go!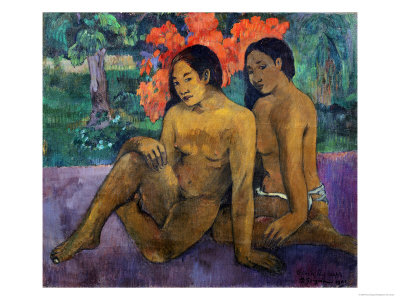 And the Gold of Their Bodies
Paul Gauguin, Tahiti, 1901
Many fine artists have covered expenses by selling paintings during their travels or after returning home.
Most noted historically, perhaps, is Gauguin, however, French artist Claude Monet painted Holland, German artist Albert Beirstadt painted the Sierra Nevadas during the 1800s, Edgar Degas travelled to New Orleans in 1872-1873. Magazine illustrators Currier & Ives painted the world during the 1800s.
On the Road Again
Just can't wait to get on the road again.
The life I love is making music with my friends
And I can't wait to get on the road again.
On the road again
Goin' places that I've never been.
Seein' things that I may never see again
And I can't wait to get on the road again.
On the road again -
Like a band of gypsies we go down the highway
We're the best of friends.
Insisting that the world keep turning our way
And I can't wait to get on the road again.
And I can't wait to get on the road again.
On The Road Again ~ Willie Nelson
Packing Art Supplies . . .
If you're travelling by plane:
Due to heightened airport security, it generally isn't possible to carry your art supplies on board an airplane. Paints are considered "liquid" and thinners are definitely "flammable," so they are not carry-ons. Before leaving home, check online for your destination city and locate art supply sources. Some cities will obviously be easy for anything an artist needs: Paris, Amsterdam, Milan, Kyoto.
If travelling by ship, there are generally no issues as many ships have Artists in Residence who are contracted to paint on board, give seminars and classes, and sell their own work while sailing to exotic destinations. (I do not know this person; but I've included her link so you can get an idea of what is possible: Eileen Seitx, Artist in Residence
ARTIST BACKPACKS, DAY PACKS
Sienna Plein Air Artist Pochade Box Easel Medium
A personal favorite -- in part because it's so attractive. I've recently scaled down, but kept this as my main travel easel. This pochade box is built with finger joint construction using, poplar, maple, and Baltic birch components with a beautiful cherry stain and lacquer finish..
All adjustments of the canvas holders and lid angle arm are controlled with easy to adjust star knobs which are easy to grip and result in a tighter holding power.
Each pochade box includes a birch palette with a clear lacquer finish, ideal for use with oil or acrylic paint. The light birch color is good for color mixing. The canvas holders are adjustable and designed for ease of use and versatility with either panels or stretched canvas. The maximum height of the M box is 15 inches; the L box is 17 inches. Any width within reason can be accommodated on both boxes.
The included brush tray stows away perfectly on the back of the lid with the help of two magnets. During painting it slips over the right side of the palette box and stays put with another pair of magnets. There are indents for seven brushes and a flat area for holding palette cups of painting medium or thinner.
Pack just as if you were going to an art class.
You Will Also Need . . .
A tripod (if your paint box doesn't have one built in)
Paints: Consider primary colors and white; mix as you go
Sketch book, pencils, pen, camera (to record images when there's no time to stop)
Brushes
Small container(s)
Paint knife
Painter's tape
Primed canvas pad, size depending on your journey, where you will work, how much you can carry, i.e. 6x8 or 8x10
If you're paint box doesn't have a flat working surface, bring a board or panel or work with Arches watercolor blocks (which are also generally obtainable in any of the world's art cities)

Apron with Pockets, old shirt, or a loose cotton/Khaki shirt
Paper towels (which you can generally pick them up at your destination)
Cotton Big Brim Ultraviolet Protection Hat. These are quite ugly, but very practical and adjustable to fit your head size.
Our family includes sea captains, which is how the world wandering started. We tend to stay close to seaports. (That's Monte Carlo below; the second mega-yacht is named "The Tooth Fairy.")
Want to travel light but still get excellent images that stand the test of time and can be enlarged and framed to grace your living room or den?
Always keep a camera or a cellphone that takes decent photos with you. There may be times when you can't stop long enough to even sketch; at least take a couple of shots for reference.
Great subjects are often close to home. The leafy sea dragon above (an all-time favorite creature) is swimming in a tank at the Monterey Bay Aquarium in Monterey, California . . . a few miles down the road.